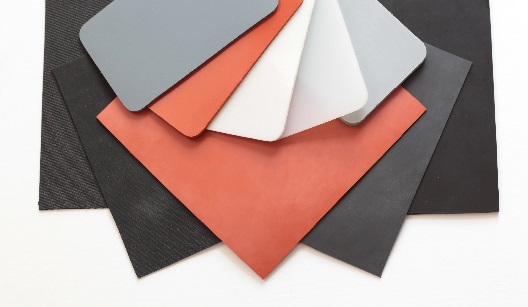 Rubber Sheeting & Stripping
Genesis Rubber supplies rubber sheeting & stripping in a wide range of thickness's in a full spectrum of materials and hardness's. All of which, can be supplied in standard widths either trimmed or untrimmed. Our rubber sheet and stripping products can be formulated and manufactured to meet varying specifications based on your requirements.
Solid & Sponge Rubber Sheeting

Rubber sheeting cut according to customers width & length requirements

Most sheeting available in 36″, 48″ and 60″wide rolls
Silicone

EPDM

Viton

Neoprene
Nitrile (NBR)

Natural Rubber

SBR

Natural Rubber
Available Specification Grades
Sheet and Stripping Options
Cloth Inserted (Fabric reinforced)
Chute Lining & Skirtboard
Weather Stripping
Open & Closed Cell Sponge
Contact Us
Allow one of our technicians to assist you with your rubber product requirements.
Our rubber specialists, can guide you through product concept and give you the power you need to create.
Contact Us
Our rubber sheeting & stripping products are tested and inspected to strict RMA guidelines. This allows us to assure conformance to dimensional, flash and finish specifications, thus assuring the parts we deliver are of the highest quality.