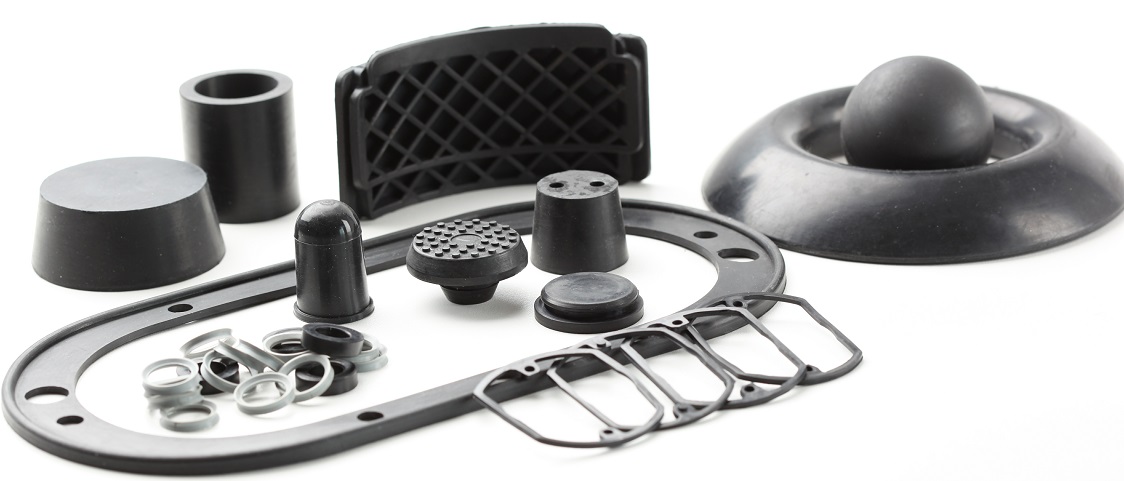 An uncured elastomer preform is placed into a heated mold. The rubber is compressed between top and bottom plates (generally 2 plates but may contain 3 or more depending on part complexity and configuration) and the rubber part is vulcanized (cured) with heat and pressure (from compression).
An uncured elastomer is placed in a "transfer pot" located above the mold and the cavity. A piston transfers the uncured rubber into a pre-heated mold through a sprue, runner and gate system. The rubber part is vulcanized through heat and pressure..
The preheated mold is closed by a press which applies pressure to keep the mold closed during the injection and curing cycles. An uncured elastomer is injected into a heated mold by a large ram or screw. The elastomer is forced into the mold and its cavities through a runner, sprue and gate system.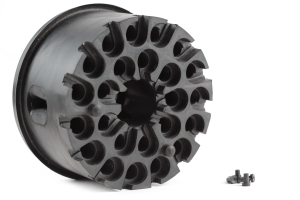 Reverse Engineered Molded Products
Genesis reverse engineers your existing rubber products and incorporates enhancements for an optimized final product and life-cycle.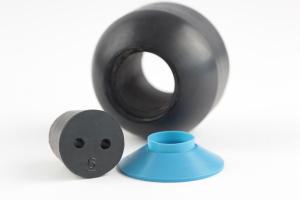 Custom Molded Rubber Parts
Custom molded rubber parts that are tailor-made for your application and supplied in high quality materials, that best function in your products environment.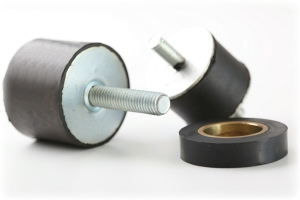 Rapid Rubber Prototyping
Mitigate the risks of guess work and reduce costs. Genesis provides a functional part in a material suitable for end use tests; fit, form and function.
Contact Us
Allow one of our technicians to guide you with your molded rubber product development.
Our rubber specialists can guide you through product concept and give you the power you need to create.
Contact Us
Materials
EPDM

Nitrile (NBR)

Neoprene

Viton® (Fluoroelastomer)

Natural Rubber

SBR
Specifications
FDA/NSF

RoHS

ASTM

USP Class VI

UL

MIL Specs

SMP800C
Molding Capabilities
Color-Matching

Rubber To Metal

Rapid Prototyping

Tight Tolerances
Factors Affecting Molded Tolerances
Inserts
Including: Metals, plastics, fabrics etc...
The factors affecting inserts in a molded part:
How the insert fits in the mold
Location of inserts
Correct spacing to match inserts with mold pins
Insert Alignment
Trim and Finish
Finishing operations to remove excess rubber material
Trimming removes excess rubber not part of the finished part. Almost always completed successfully without issue. However, occasionally material can be removed from critical areas through the tumbling de-flashing process.
Distortion
Can occur when demolding the finished product
Distortion can occur when the rubber part is removed from a mold and stretched over a core. Distortion can cause issues in measurement and final inspection. This can be minimized by allowing parts to rest for a period of 24 hours before shipping.
Shrinkage
There are several factors affecting shrinkage
Shrinkage is the dimensional difference between the rubber mold and finished product after curing. All rubber parts experience shrinkage. The rates vary depending on temperature, compound selection, cure time, pressure, and post-curing
Dimensional Terminology
Closure Dimensions VS. Fixed Dimensions
Fixed dimensions: Best described as being parallel to the mold parting line. They are not affected by flash thickness variables
Closure dimensions: These are vertical to the mold parting line and are affected by flash thickness.
Our molded rubber products are tested and inspected to strict RMA guidelines. This allows us to assure conformance to dimensional, flash and finish specifications, thus assuring the parts we deliver are of the highest quality.